Introduction pages, Notulae Scientia Biologicae 14(3), 2022
Keywords:
Notulae Scientia Biologicae, Issue 3, Volume 14, 2022
Abstract
Notulae Scientia Biologicae (http://www.notulaebiologicae.ro), Issue 3, Volume 14, 2022: The papers published in this issue represent interesting novelties in different topics of life science. Among the exciting research or reviews, we invite readers to find news about: Micropropagation and potential of bioactive compounds of saffron (Crocus sativus L.) for nutrition and health; Anatomical, physiological, biochemical and molecular responses of Eucalyptus spp. under water deficit conditions and characteristics of Tunisian arid species; Escherichia coli infection, a negative prognostic factor on the evolution of patients with surgical diseases; Biological characteristics and mortality in patients with diabetes and COVID-19; The influence of Staphylococcus infections on the evolution of hospitalized patients: The experience of the surgical department of IRGH Cluj-Napoca; Parquetina nigrescens leaf infusion: a food-based approach for the management of diet-induced iron deficiency in weanling rats; Evaluation of the effects of calabash chalk on the haematological profile of Wistar rats; Inhibitory potential of rutin on lipopolysaccharide-induced toxicity and inflammatory response of raw U937 cells and macrophages; Hypoglycemic and in vitro antioxidant activities of Stereospermum kunthianum stem bark hydromethanol extract; Polyploidization and speciation: patterns of natural hybridization and gene flow in basil (Ocimum spp.); Increasing liana biomass and carbon stocks in tropical dry evergreen forests of southern India.
References
Notulae Scientia Biologicae, Issue 3, Volume 14, 2022.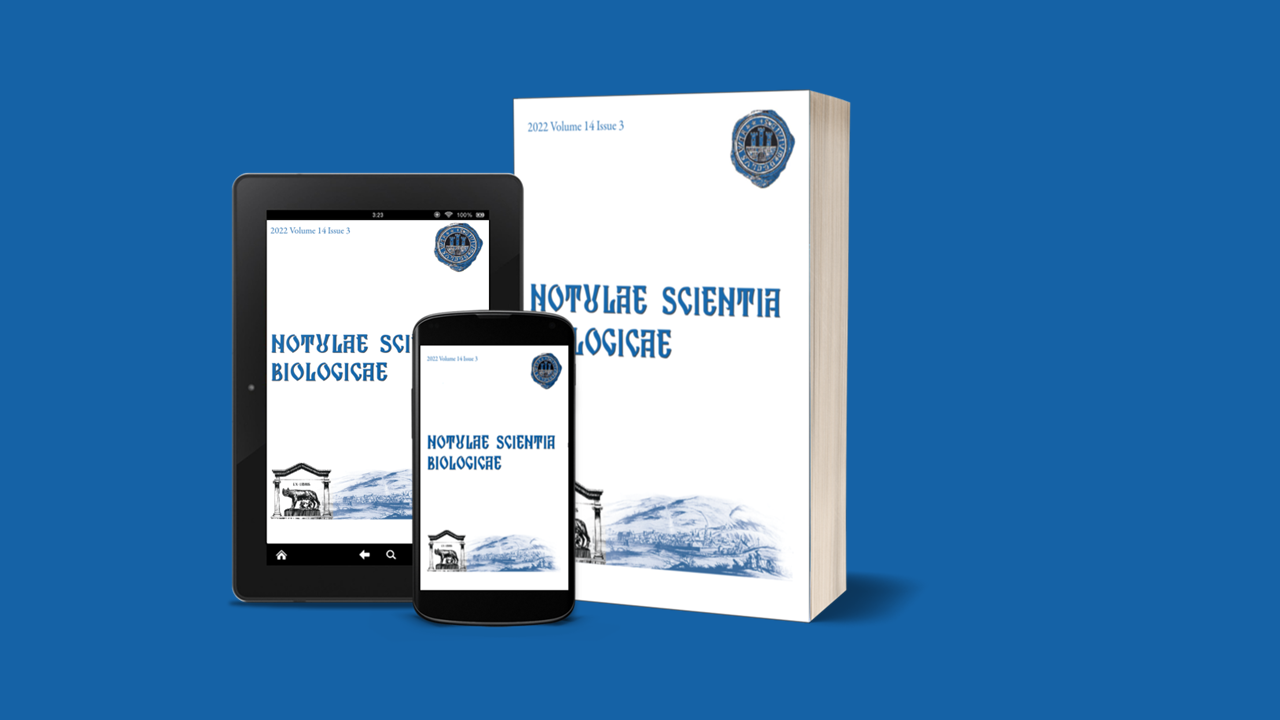 Downloads
How to Cite
SESTRAS, R. E. (2022). Introduction pages, Notulae Scientia Biologicae 14(3), 2022. Notulae Scientia Biologicae, 14(3), 11358. https://doi.org/10.55779/nsb14311358
CITATION
DOI: 10.55779/nsb14311358
License
Papers published in Notulae Scientia Biologicae are Open-Access, distributed under the terms and conditions of the Creative Commons Attribution License.
© Articles by the authors; licensee SMTCT, Cluj-Napoca, Romania. The journal allows the author(s) to hold the copyright/to retain publishing rights without restriction.
License:
Open Access Journal - the journal offers free, immediate, and unrestricted access to peer-reviewed research and scholarly work, due SMTCT supports to increase the visibility, accessibility and reputation of the researchers, regardless of geography and their budgets. Users are allowed to read, download, copy, distribute, print, search, or link to the full texts of the articles, or use them for any other lawful purpose, without asking prior permission from the publisher or the author.